Come promesso nello scorso post, ecco la mia prima splatter manicure!
Ecco cosa ho usato per realizzarla:
Orly Dayglow (base)
China Glaze Kiwi Coolada, Zoya Paz, Orly Glowstick
Cannucce scroccate in giro
Superficie plasticosa, come un piatto usa e getta
Orly Bonder come base coat e Sally Hansen Insta Dry come top coat
Pennello da clean up
Mostruosa potenza polmonare
Hi ladies!
As promised in my last post, here it is my first splatter manicure!
I used:
Dopo aver steso la vostra base e averla lasciata asciugare per benino, coprite con del nastro adesivo le cuticole, per evitarvi un lungherrimo e noioso procedimento di clean up una volta finita la vostra nail art.
Lasciate cadere su un piatto di plastica o simile qualche goccia del primo smalto che volete usare e pucciatevi dentro un'estremità della prima cannuccia. Con un minimo di pratica imparerete a dosare la giusta quantità: non ci deve essere troppo prodotto o sulla vostra unghia comparirà una chiazza gigantesca, né troppo poco, o non vi sarà trasferimento di prodotto.
Soffiate con tutta la forza che avete nei polmoni et voilà! Il primo splat è servito!
Ripetete semplicemente su tutte le unghie e con tutti i colori che volete.
Le combinazioni sono pressoché infinite e dipendono solo dal vostro gusto personale. E' impossibile sbagliare, perché è una nail art che si basa sul marasma assoluto, quindi buttatevi!!!
Una volta finito passate un top coat e pulire gli schizzi di smalto che, inevitabilmente, avranno sporcato le vostre cuticole. Come suggerito da altre bloggers un milione di volte, il mezzo migliore è il pennello da correttore di ELF, linea base, e acetone puro (motivo per cui dovrete lavarvi accuratamente le mani dopo aver terminato). Per darvi un'idea, ecco le unghie al naturale, senza clean up.
If you want to realize this super simple nail art, you can follow this tutorial by The Polishaholic, or my instructions here below.
Apply your base color, let it dry and cover your cuticles with scotch tape, so you will avoid a long and boring clean up.
Put a few drops of the first polish you want to use on the plastic plate and dip the straw in it. After a couple of attempts you will understand the perfect quantity of nail polish that you need: if you use too much product you will obtain a huge spot, but if you use too little polish you won't obtain any spots at all.
Place the straw over your nail, blow in the undipped part of the straw with all your pulmonary power and here it is your first splat!
Repeat for every nail and with every color you want to use (one straw per color). It is impossible to make mistakes with this nail art, because it is based on chaos and mess.
Once you have finished, carefully remove the tape from your nails and apply your fav top coat. Clean your cuticles if necessary. This is my manicure before clean up.
In direct sunlight, before clean up
Per oggi è tutto, vi lascio al resto delle foto e spero che questa splatter vi piaccia!
Nota: chiedete ad una blogger quale è il finish più difficile da fotografare e questa vi risponderà quasi certamente che è il neon. In particolare, l'arancio neon. Il Paz è più chiaro e psichedelico di quanto non appaia nella maggior parte delle foto. Per avere un'idea di come sia in realtà, fate riferimento alle due foto alla luce solare.
So, as I wrote above this was my first attempt, I love the color combo and hope you like it too!
Note: neons are really difficult to capture. In particular, orange neons. Zoya Paz, IRL, is a bit lighter and even more bright; the color is accurate in the two pics taken in direct sunlight.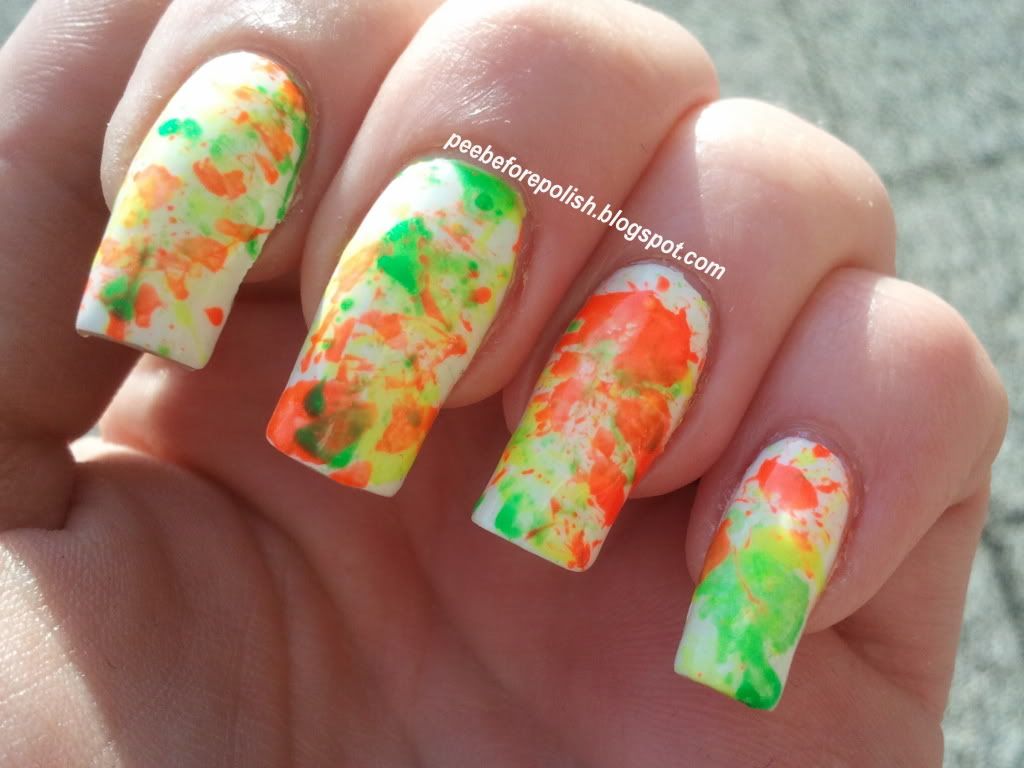 In direct sunlight
*** Orly Dayglow e Glowstick mi sono stati inviati da Ladybird House. Tutti gli altri prodotti sono stati acquistati da me***
***Orly Dayglow and Glowstick were sent me for review. All other products have been bought by me***