Lo so, lo so, giovedì avevo scritto che avrei pubblicato un altro post nel week end, ma proprio non ce l'ho fatta, sono stata superimpegnata.
Il risultato è che ora ho una quantità abnorme di post arretrati. Ussignur.
Tornando a noi: I sta per Inkwell di CND.
L'Inkwell fa parte della linea Colour di CND, composta da 50 colori creme pigmentatissimi, che costituiscono una base perfetta per giocare con gli Effects, sempre dello stesso brand (
ve ne avevo parlato qui
), o con altri smalti da layering di vostra scelta.
Inkwell è un blu notte scurissimo ed è tra i miei preferiti proprio perché i colori molto scuri sono quelli che più drasticamente cambiano a seconda dello smalto che si va a stenderci sopra.
La formula è favolosa, si stende benissimo grazie anche al pennello, piatto e non troppo grosso (la mia tipologia preferita). La pigmentazione è eccellente, solo una passata nelle mie foto.
L'asciugatura è rapidissima e l'effetto finale molto lucido anche senza top coat. Durata buona.
Vi rimando ad un prossimo post per mostrarvi come ci ho "giocato" (a questo punto non indico date papabili!!) ed intanto vi invito a vedere cos'han combinato le mie colleghe di sfida!
I know, I know, last Thursday I promised another post before a new "episode" of the ABC Challenge, but I've been really super busy during the last days.
I am really super late with three or four posts I'd like to publish ASAP. Sigh.
Back to us: I for Inkwell by CND.
As you probably know, CND has a line called Colours which is composed of 50 creme polishes. These are a great base for layering (using CND Effects or any other polish of your choice) or stamping.
Inkwell is a deep dark blue and is one of my favourite because I think that the darkest colours are the most fun to play with when it comes to layering.
Formula is great and I love this kind of brush (flat and not too small or huge), so application was easy. Pigmentation is great, only one coat in my pics. Inkwell dries glossy even without a top coat.
Drying time is fast and longevity is good.
I will publish another post just to show you how I played with Inkwell. In the meanwhile, I wish you a great day and don't forget to take a look at the entries of the other ladies!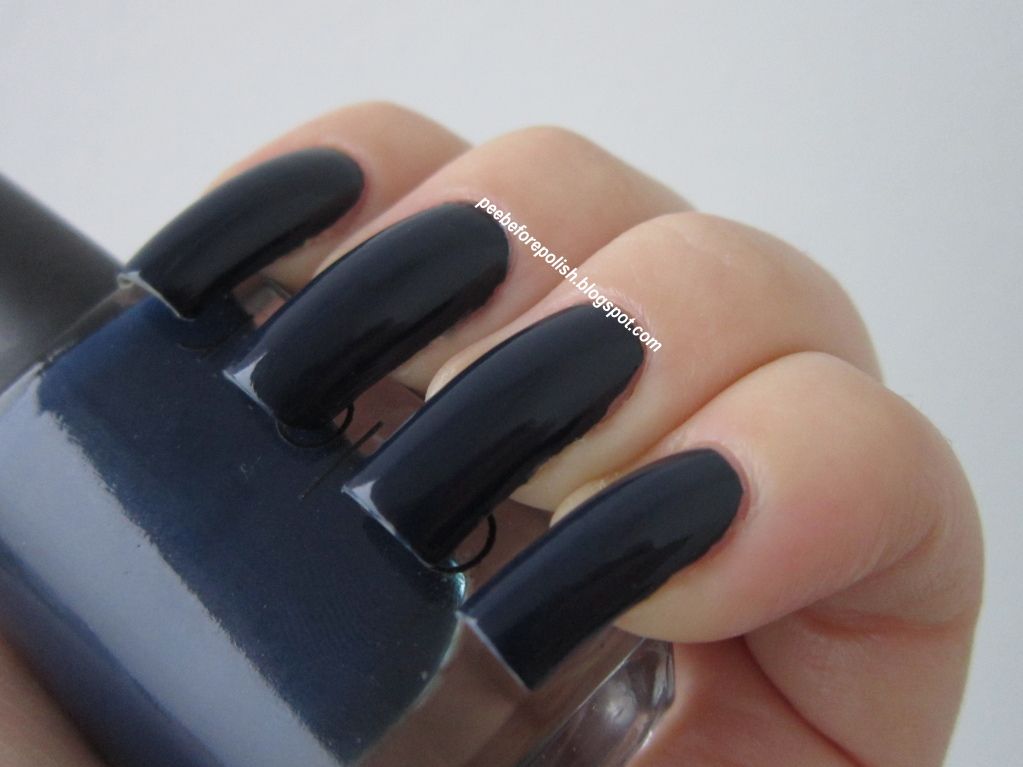 Applicazione / Application

5/5

Asciugatura / Drying time

5/5

Coprenza / Pigmentation

5/5

Durata / Longevity

4/5

GIUDIZIO FINALE / OVERALL

4.75/5
***The product in this post was a gift of CND Italian distributor***
***Il prodotto del post è stato un regalo di Ladybird House, distributore italiano di CND***