Buonasera ragazze!
Sebbene un po' in ritardo, ecco a voi i miei acquisti al Cosmoprof 2013. Avrei dovuto pubblicare questo post ieri, ma ho procrastinato per un ottimo motivo... La creazione del mio primo brownie! Non indulgerò nella falsa modestia e andrò dritta al punto: è venuto una favola (grazie Eleonora per avermi suggerito un'ottima ricetta).
Chiusa questa parentesi culinaria, torno in topic ed inizio a mostrarvi il mio bottino. Ne approfitto per chiedere scusa in particolare a
Piola
di questo ritardo, non scordatevi di curiosare anche tra i suoi acquisti!
Hi ladies!
I'm a bit late but I'm ready to show you my purchases at Cosmoprof 2013. I had to publish this post yesterday but I didn't have the time because I decided to prepare and cook my first brownie... It is absolutely delicious, I'm so happy about the result (special thanks to my friend Eleonora who suggested me a fantastic recipe).
Sorry for this off topic but I'm so proud and I wanted to share my satisfaction with you. Well, now I'm ready to show you my new babies! Hope that Piola, my partner in crime, will forgive me for this late post; she already published her haul post, don't forget to check her blog!
My first brownie... I'm so proud!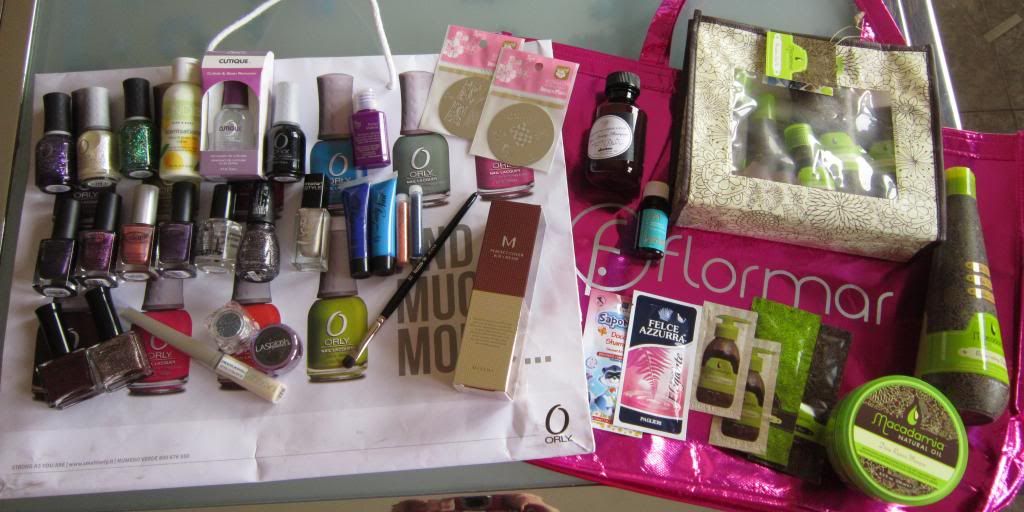 An overview
Inizio subito con gli acquisti smaltosi. Da Ladybird, distributore di CND e Orly, ho preso Can't Be Tamed e Monster Mash della recente Flash Glam FX, Winter Wonderland e una CND Scentsation (limone e thé verde, ve l'ho detto che queste creme son tremende, una tira l'altra). Il Cutique e il Liquid Vinyl sono invece per una mia amica (ciao Lau!).
I'm going to start with nail polishes. I already wrote that I'm in love with Orly Flash Glam FX Collection, and I couldn't resist, I had to buy two more polishes from that collection (Can't be Tamed and Monster Mash). I also bought Winter Wonderland and a CND Scentsation (Citrus and Green Tea). Cutique and Liquid Vinyl are for my friend Lau (hi beauty!).
L-R: Can't be Tamed, Winter Wonderland, Monster Mash, CND Scentsation, Cutique & Liquid Vinyl
---
La scelta da Eurofashion è stata davvero ardua: l'assortimento era talmente ampio ed invitante che avrei potuto passarci un'ora ed essere ancora indecisa. Alla fine ho optato per Alias, Gift of Sparkle (che mi sembra un'ottimo dupe dello Zoya Aurora, che ho in WL da mesi), Cosmic Fate della Halo Hues 2013 e Wild at Heart.
Eurofashion, the poland distributor of Color Club, had so many products and collections and it was hard to choose what to buy. I wanted to buy five Halo Hues polishes but they were quite expensive, so I only picked Cosmic Fate, the coral holo from Halo Hues 2013.
Moreover I bought Alias, Gift of Sparkle (I think it's a good dupe for Zoya Aurora, which is in my WL since months) and Wild at Heart.
Alias, Gift of Sparkle, Cosmic Fate and Wild at Heart
Alias deserves a close-up!
---
Visto il solone delle
ultime collezioni "in preview"
e basta, da Clarissa Nails mi sono limitata ad un Seche Vite di scorta e ad uno smalto d'epoca, il CG in the City della Metro Chic 2011.
As I wrote in my previous post I was very disappointed by the Italian distributor of China Glaze, so I only bought a Seche Vite and CG in the City (from Metro Chic collection).
---
Il piccino di cui sotto, il Peggy Sage Dreamy Beige, l'ho invece preso per la
Simona,
la grande assente... Il prossimo anno la rapisco e la trascino con me!
The baby you can see here below is Peggy Sage Dreame Beige and it was bought for Simona... I really hope that she will come with me next year, I missed her!
---
Lo scorso anno ero rimasta molto colpita dallo stand LA Splash, uno dei pochi internazionali che vende: hanno degli articoli di make-up estremamente interessanti, in particolare citerei i loro eyeliner, glitterati e non, e i loro pigmenti glitterosissimi. La loro particolarità sta nel fatto che questi glitter, se applicati con la loro base (estremamente economica), rimangono lisci al tatto e il rischio fallout è azzerato. Quest'anno hanno saputo stupirmi anche con una linea di smalti, la Ioni Cosmetics, dai colori splendidi. Purtroppo l'assenza di sole mi ha impedito di mostrarvi, in questo post, quanto sia figherrimo il loro finish, ma non mancherò di recensirli al primo raggio di luce come si deve perché meritano, davvero. E costano pochissimo!
Last year, during Cosmoprof, I discovered a brand, LA Splash, which has beautiful (and cheap) make up products. They have amazing eyeliners and stunning glitter pigments. If used in combo with their (cheap) base, they are even to the touch and there is no risk of fallout. I bought a couple of them and I'm soooo happy with my purchase! I also picked a couple of nail polishes from their partner brand Ioni Cosmetics, beautiful and unusual colors and cheap prices, I couldn't resist. Can't wait to wear them, they have bright holo particles which are not visible in my pic (stupid, bad weather) and they deserve better photos.
---
L'angolo della nail art. Premetto che c'erano cose fantastiche, ma m'è preso un accidente alla vista dei prezzi. Ho dunque cercato di limitarmi ed acquistare solo quello che, dopo ricerca certosina, è risultato avere un costo davvero vantaggioso.
Sapete che per la nail art uso degli acrilici non appositi, comprati al supermercato. Da tempo volevo testare quelli creati ad hoc, quindi ecco a voi un azzurro e un fantastico blu (presi da Lady Nail) e un viola (Peggy Sage), non vedo l'ora di usarli e vedere la differenza.
Dai polacchi di Diamond Cosmetics ho preso due fialette di glitter e da Konad Spagna due nuovissimi stamping plates (M89 e M90), dato che finalmente la Konad ha creato dei full nail designs abbastanza grandi da coprire le mie lunghissime unghie.
Nail art products: I saw amazing accessories for nail art, but prices were simply crazy! I wanted to buy a ton of things, but I decided to buy only those accessories which had reasonable prices.
As you may remember, for my nail arts I use acrylic colours bought at supermarket. I wanted to try specific products so I bought a light blue and a blue acrylics from Lady Nail and a bright purple from Peggy Sage. Can't wait to use them and see if there's any difference.
I also bought some glitters from Diamond Cosmetics and two stamping plates from Konad (M89 and M90).
---
Non mi sono certo distinta per gli acquisti truccosi, come avrete notato: però sono stata abbastanza fortunata da trovare finalmente un pennello da ombretto abbastanza piccolo (lo spazio a disposizione sulla mia palpebra mobile è piuttosto limitato) da fare al caso mio, grazie ai tedeschi di Leonhardy.
Ho anche preso una BB Cream Missha per la mia mamma, spero che ci si troverà bene, ho paciugato un po' col tester presso la stand e tra i vari marchi a disposizione m'è sembrata di gran lunga la migliore.
You may have noticed that I didn't buy lots of make up... Anyway I finally found a small eyeshadow brush, I was desperately looking for it, and I have to thank the German brand Leonhardy.
Moreover I bought a Missha BB Cream for my mommy, hope she will like it! Have you ever tried Missha BB Creams? Would you recommend them? Did I make a good choice?
---
Ho mai detto che amo alla follia i prodotti Macadamia per la cura dei capelli? Ve lo dico ora. Sono molto cari per cui non potevo non approfittare degli sconti pazzeschi che fanno al Cosmoprof (tra il 50 e il 70%). Ho preso la mitica Deep Repair Mask, uno dei loro shampoo per capelli lisci (praticamente l'ho pagato come un Pantene) e uno dei loro kit con dentro sei prodotti (dallo shampoo al balsamo, dall'olio riparatore al disciplinante) e un pettine in legno.
Did I ever say that I really, really love Macadamia products for hair care? Well, I do. They're really expensive so I rarely buy them. During Cosmoprof they sold their products with huge discounts (50-70%) so I bought their famous Deep Repair Mask, one of their shampoo and a super nice kit which contains six products (shampoo, a sample of Deep Repair Mask, conditioner, etc.) and a lovely wood comb.
---
Un'ultimissima foto dedicata ai campioncini. Penso che avrete letto un po' ovunque che non c'è grande possibilità di "arraffare" campioncini in fiera, e non faccio che confermarvi questa notizia. Anche perché io non sono certo il tipo che chiede, né in qualità di "privato" né tantomeno in qualità di blogger (sarò fessa ma son fatta così). Alcuni brands regalavano campioni a patto che faceste dei piccoli questionari o condivideste contenuti sulla vostra pagina Facebook, ma sinceramente non avevo voglia di cuccarmi delle file da 20 e rotti minuti, ho preferito godermi la fiera.
In ogni caso, oltre ai samples di Macadamia che vedete sopra, mi sono portata a casa il solito Moroccan Oil, un paio di campioni Paglieri e uno shampoo personalizzato Davines.
In my last pic you can see a few samples I received. If you think that during Cosmoprof you have the chance to receive a lot of samples, you're wrong.
Moreover, I'm not that kind of girl (or blogger) who asks for free products or samples.
In the pic here above you can see a couple of sample from the Italian brand Paglieri (bubble bath), one from Moroccan Oil and one from Davines (shampoo).
---
E siamo arrivate in fondo anche a questo lunghisssssimo post! Stanche, vero? Ovviamente, se volete che io dia priorità ad un prodotto piuttosto che ad un altro per le mie recensioni, basta chiedere! Vi ringrazio per la pazienza e a presto!
Soooooo... These were my purchases at Cosmoprof Worldwide. Sorry for the long post. If you're interested in some products in particular, please write me in the comments and I'll try to review it as soon as possible. Thank you for reading and watching and have a nice evening!