Buonasera donzelle
e ben ritrovate con la quinta puntata del Discontinued Day. Oggi vi mostro una palette del 2012, la iDivine Glory di Sleek.
Adoro ogni cosa di questa palette: il concetto (è stata creata per i Giochi Olimpici di Londra), la qualità, la varietà dei colori, e non ultimo il fatto che abbiano abbinato i nomi delle linee della metropolitana al colore corrispondente.
Ogni ombretto ivi contenuto si distingue per pigmentazione e qualità (non sono assolutamente polverosi), nonché per durata, che varia dal buono all'eccellente. Pochi i matte, gli shimmer la fanno da padrone; inoltre c'è un'ottima proporzione tra colori "sobri" e più vivaci, il che la rende assolutamente versatile ed adatta a creare look per ogni occasione. Ad ulteriore dimostrazione di questa versatilità, segnalo che Central (il rosso acceso matte) è fantastico, se usato in piccole quantità, anche come blush - e ad essere onesta io l'ho usato esclusivamente in questo modo!
Qui sotto vi mostro ogni ombretto nel dettaglio. E anche per oggi è tutto, grazie per la vostra visita e a presto!
Hi ladies
and welcome back to Discontinued Days, our monthly appointment with old stuff. Today I'm going to talk about one of my favourite palette ever, that's Sleek iDivine Glory.
I love the concept (it was created for London Olympic Games), I love the fact that the names of the different underground lines matched with colours, I love every single shade and I love the quality of this palette.
The eyeshadows contained in this little jewel have an incredible pigmentation, they're not chalky or dusty and they have a good or even excellent longevity. It contains only a few matte shades, but there's a good proportion between neutral and "sober" colours VS super bright colours, so you can really create a lot of different looks for different situations with just one palette. Central (the brigh red with a matte finish) can be also used as a blush, and this is a further evidence of the versatility of this palette.
Here below you can see more pics of every colours. That's all I have for you today, thank you for reading and watching and have a nice evening!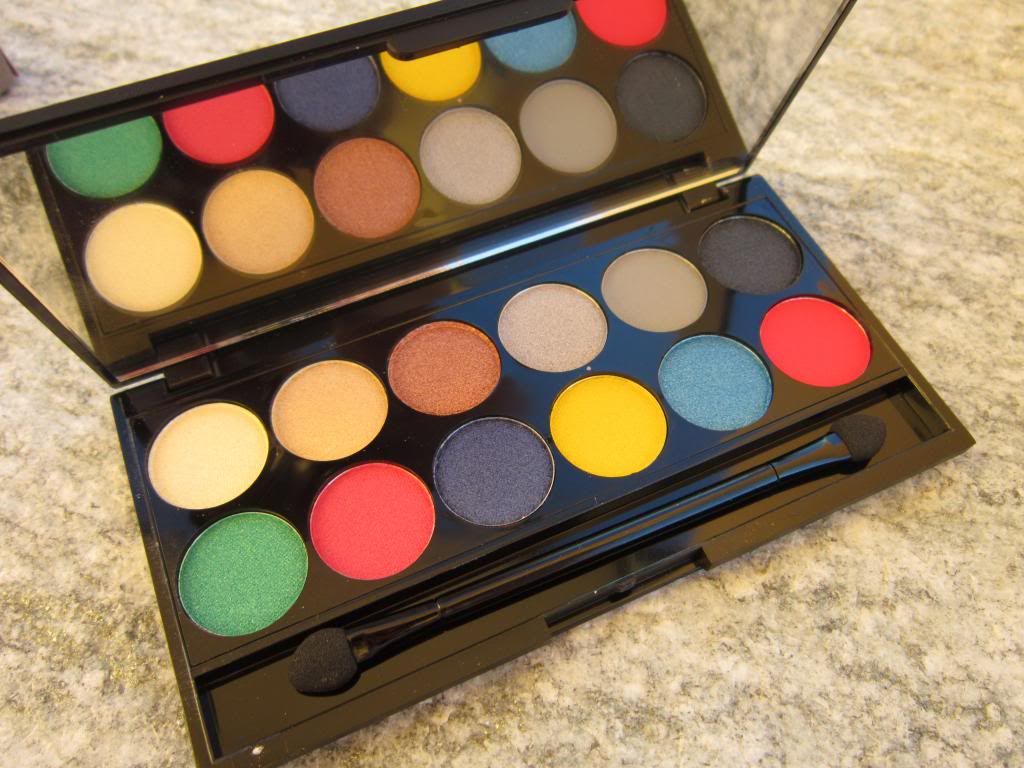 Prima riga /
First row
:
Tube:
champagne shimmer /
shimmery champagne
Overground:
beige chiaro shimmer /
shimmery
light beige
Bakerloo:
marrone chiaro shimmer con un tocco di bronzo /
shimmery light brown with a touch of bronze
Jubilee:
argento shimmer /
shimmery silver
Platform:
grigio matte /
matte grey
Northern:
nero con leggerissimo shimmer blu /
black with a subtle blue shimmer
Seconda riga /
Second row
:
District:
verde vivo shimmer /
shimmer bright green
Hammersmith and City:
fucsia shimmer /
shimmery hot pink
Piccadilly:
blu navy shimmer /
shimmery navy blue
Circle:
giallo canarino shimmer /
shimmery canary yellow
Victoria:
azzurro ciano shimmer /
shimmery cyan blue
Central:
rosso acceso matte /
bright matte red
Follow DISCONTINUED DAY by Gnoma Jessica on Pinterest