Sin dalla prima passata del
Kiko 401 Peacock Green
ho avuto una sensazione di déjà vu.
Sottotitolo: mi sa che ho fatto 'na cazzata a comprarlo.
Per una volta non mi sbagliavo. Il Kiko 401 è il
fratello del Pupa 32
.
Ad un'attentissima osservazione, il Pupa, all'ombra, mostra una punta di verde in più del Kiko. Talmente impercettibile che la fotocamera non riesce a catturarla.
Il Kiko, poi, ha un effetto holo linear leggermente più marcato del Pupa. Anche qui, parliamo di differenze davvero minime, come potrete vedere voi stesse.
In termini di applicazione vince il Pupa, che è senz'altro più semplice da stendere. Del tutto identici, ancora, per pigmentazione e durata.
Insomma, se possedete l'uno potete benissimo skippare l'altro.
Dovendo scegliere fra i due, direi Kiko, un po' per il maggiore effetto holo (quando si parla di smalti olografici mi attacco anche alla singola particella di effetto arcobaleno!), un po' per il prezzo: 0.45€ per ml di prodotto per Kiko, 1.19€/ml per Pupa (escludendo sconti e promozioni che si trovano in giro).
Per oggi è tutto, vi abbraccio e a presto!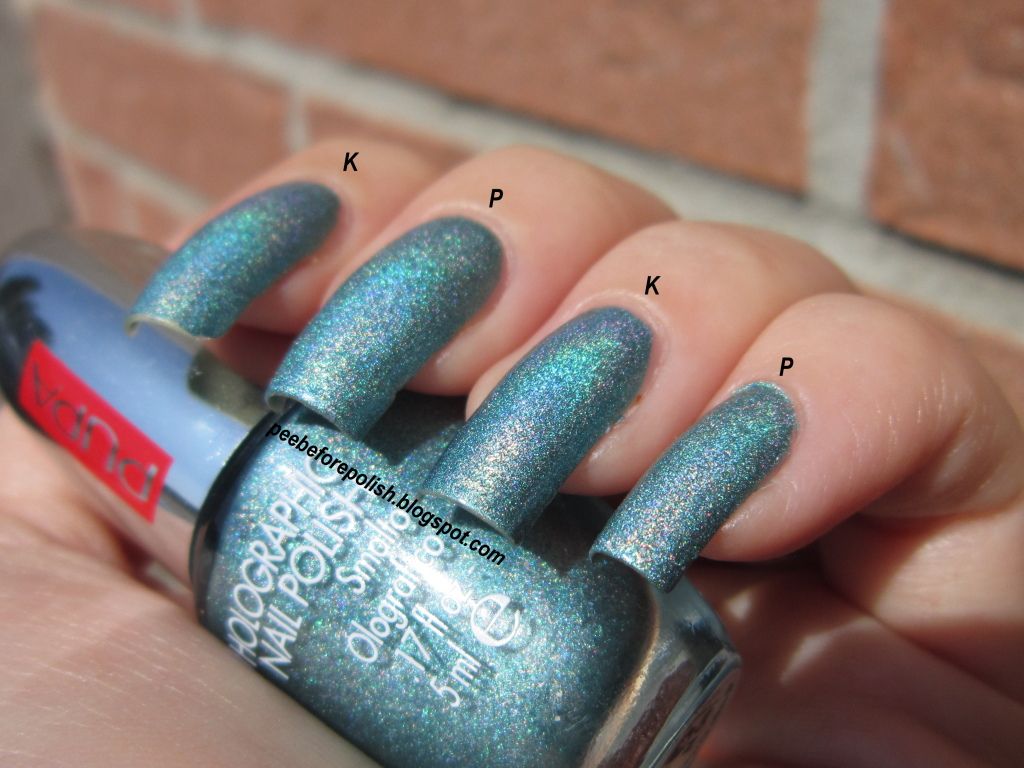 When I bought and wore for the first time Kiko 401 Peacock Green, I immediately had a déjà vu.
"Ops, I think I bought a dupe for something which is already in my stash!"
I wasn't wrong. Kiko 401 is really, really similar to Pupa 32 Holographic Emerald.
If you carefully observe the two polishes in the shade, Pupa 32 is a bit greener than Kiko 401. But this difference is so slight that it is impossible to capture it with my camera.
Moreover, Kiko 401 is a bit more holo than Pupa. Again, the difference is really little.
Pupa 32 is easier to apply, but pigmentation, drying time and longevity are exactly the same.
In conclusion, if you have Kiko 401 you can skip Pupa 32 and vice versa.
If I had to pick one I'd say Kiko 401, since it has a better holo effect and it is much cheaper too! In fact Pupa polishes cost 5.95 per 5 ml, Kiko LE polishes retail for 4.90€ per 11 ml (1.19€/ml for Pupa, 0.45€/ml for Kiko).
That's all I have for you today, thank you for reading and watching!
KIKO 401 PEACOCK GREEN
Applicazione / Application

3/5

Asciugatura / Drying time

4.5/5

Coprenza / Pigmentation

4.5/5

Durata / Longevity

3/5

GIUDIZIO FINALE / OVERALL

3.75/5
PUPA 32 HOLOGRAPHIC EMERALD
Applicazione / Application

4.75/5

Asciugatura / Drying time

5/5

Coprenza / Pigmentation

4.75/5

Durata / Longevity

3/5

GIUDIZIO FINALE / OVERALL

4.25/5