Salve ragazze!
Spero che abbiate passato un ottimo week-end. Un post veloce per mostrarvi il NYX Emerald Forest, ricevuto grazie al pacchetto blogger che il brand americano ha inviato ad alcune prima del lancio dello
store on line
. Insomma, da qualche settimana anche le italiane, le francesi e le spagnole possono comodamente ordinare da casa propria.
Una cosa che ho molto apprezzato è la spedizione gratuita per gli ordini sopra i 40€, una cifra non altissima e facilmente raggiungibile soprattutto se si ordina con una o due amiche.
Invece, auspicherei che siano presto disponibili le Jumbo Eye Pencil, pezzo forte di NYX e prodotto più atteso, così come tutte le linee di smalti (magari con prezzi un filino più bassi!).
Tornando allo smalto del giorno: diciamo che ho avuto una fortuna sfacciata, perché tra i tanti splendidi smalti NYX questo era sicuramente tra i miei preferiti.
Emerald Forest ha base verde jelly con una generosissima quantità di glitter verdi e dorati (e qualcuno turchese). E' uno smalto a dir poco splendido, scenografico, luminosissimo: un vero peccato che il sole non si sia visto quando l'ho indossato, perché mi sarebbe piaciuto un sacco mostrarvelo al massimo del suo splendore. Dà il meglio di sé anche con la luce artificiale che tipicamente ci accompagna durante i mesi invernali.
Tre mani per la coprenza perfetta, asciugatura nella media e ottima durata.
Vi lascio alle mie foto e scappo a nanna, ma ci rileggeremo sicuramente presto, ho in arrivo un post #300 molto sopra le righe!
Hi ladies!
A few weeks ago NYX has finally arrived also in Italy. To be precise, they recently opened an on line store in Italy, France and Spain.
A few italian bloggers received a super cute package with several goodies to test, and I was lucky enough to have one of those packages.
I'm really, really happy that NYX is finally available in my country, even if prices are a bit higher than I expected and a couple of very interesting items are still missing (i.e. Jumbo Eye Pencils, which are maybe the most famous product by NYX).
I was very lucky because one of the products I received had been in my wishlist for a lot of months: I'm talking about Emerald Forest from their line "NYX Girls".
Emerald Forest has a bright green jelly base and lots of green and gold glitters. It's really an amazing shade, so bright and sparkly, and I'm so sorry that I couldn't take pictures in direct sunlight!
It is stunning even with artificial light.
Three coats in my pics, the jelly base is a bit sheer.
Drying time was quite fast and I was very satisfied with its longevity too.
Well, it's quite late here in Italy and I have to go to bed, but we'll talk very soon. Next post will be #300, so I won't write a review or talk about a product, but it will be an unusual post about me. Stay tuned!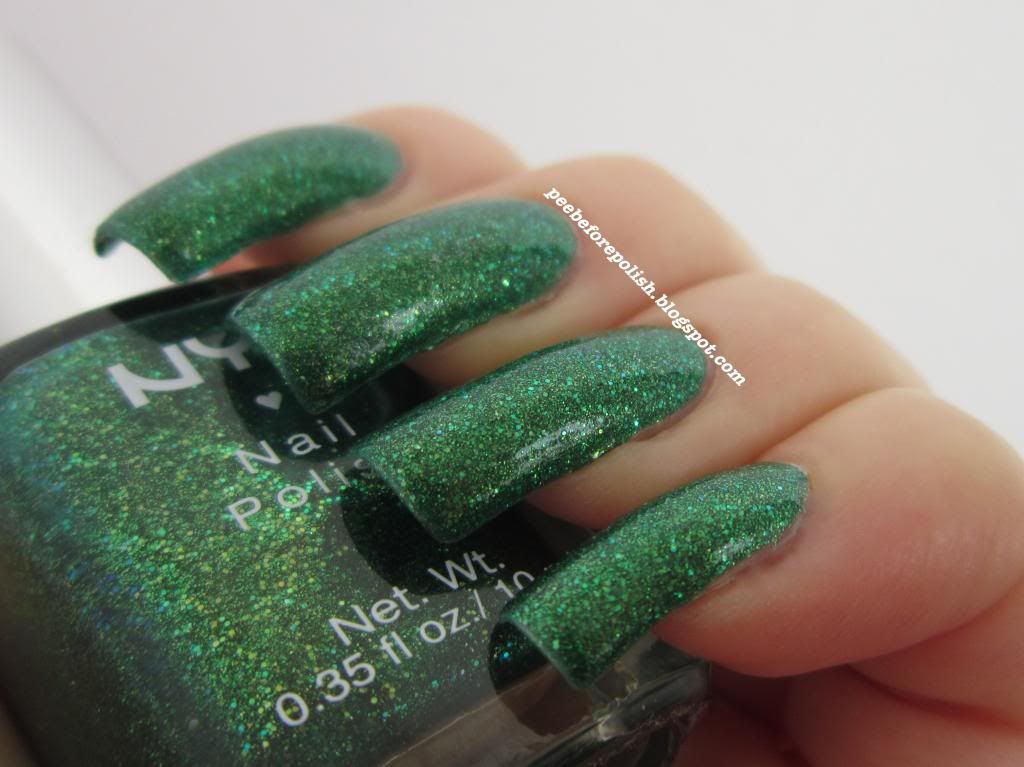 Applicazione / Application

4.5/5

Asciugatura / Drying time

4/5

Coprenza / Pigmentation

3.5/5

Durata / Longevity

4.5/5

GIUDIZIO FINALE / OVERALL

4/5
***Il prodotto del post mi è stato inviato a scopo valutativo***
***Product in this post was sent me for review***