Buonasera a tutte!
Per stasera vi propongo una comparison tra il nuovo Kiko #407 Starry Indigo, appartenente alla LE Dashing Holidays ed appena
swatchato qui
, e il Mistery di Shaka, sempre proveniente da una LE, la Winter Party.
Vorrei ringraziare
Emanuela
per il suggerimento di fare questa comparazione tra i due smalti!
Lascio prima parlare le foto:
Hi ladies!
Today I have a comparison between Kiko #407 Starry Indigo, from the recent LE collection Dashing Holidays, and Shaka Mistery, from Winter Party LE.
I want to thank Emanuela who suggested me to do this comparison in the comment of my recent post about Starry Indigo.
First-of-all, I want to show you the pics: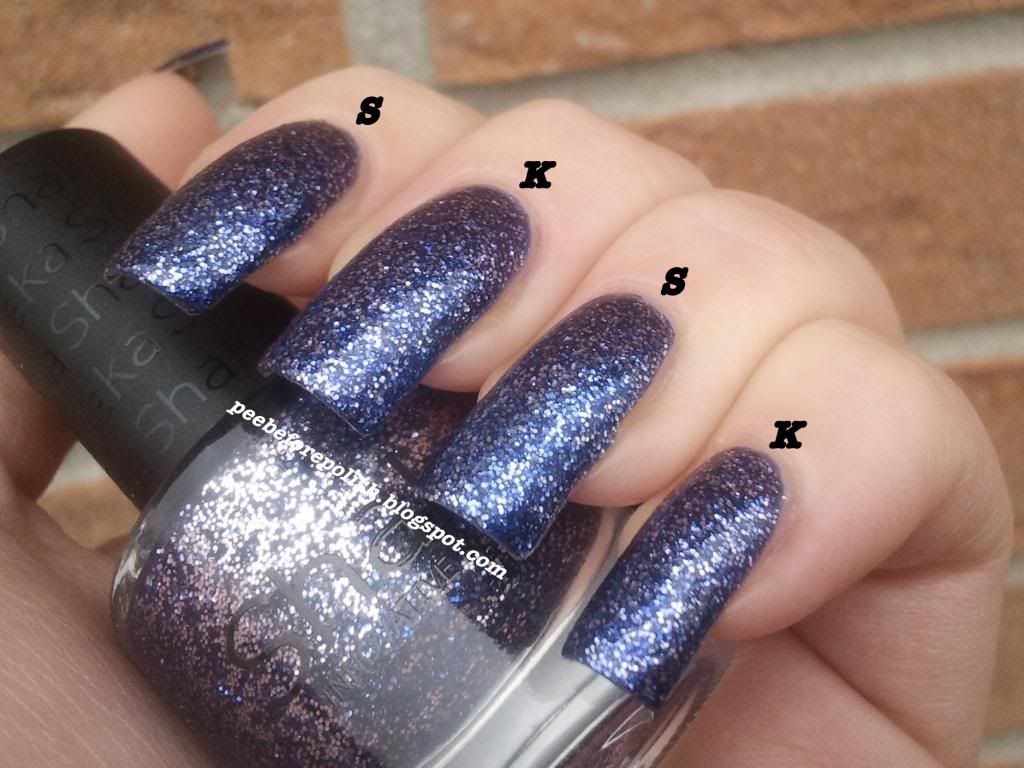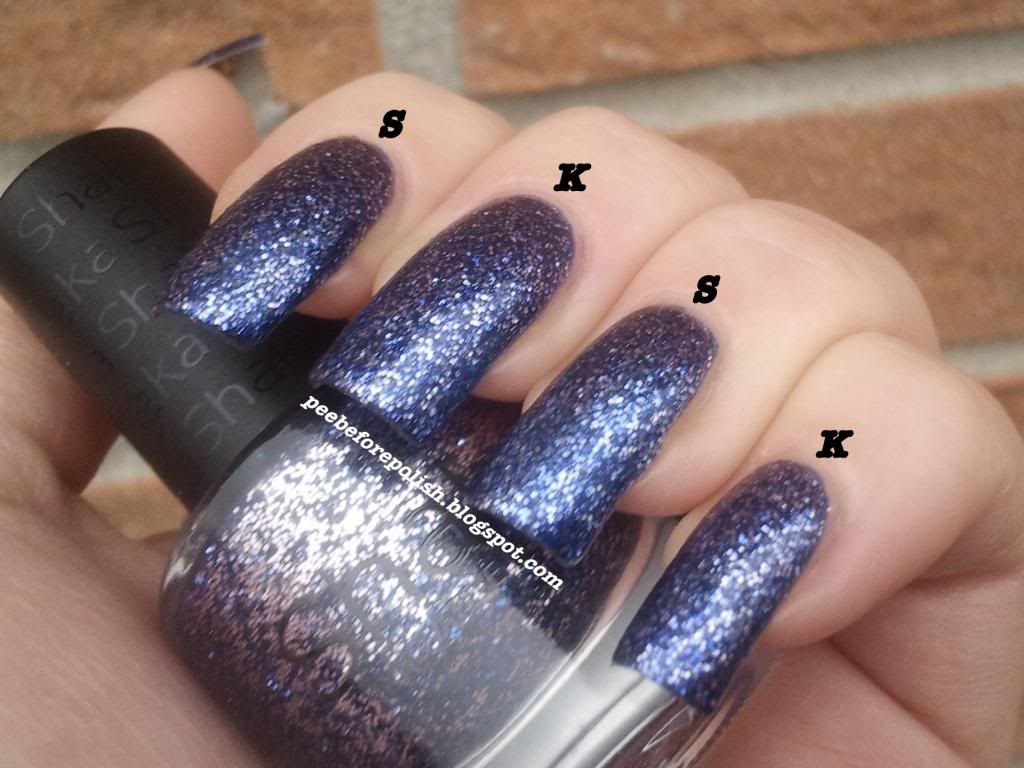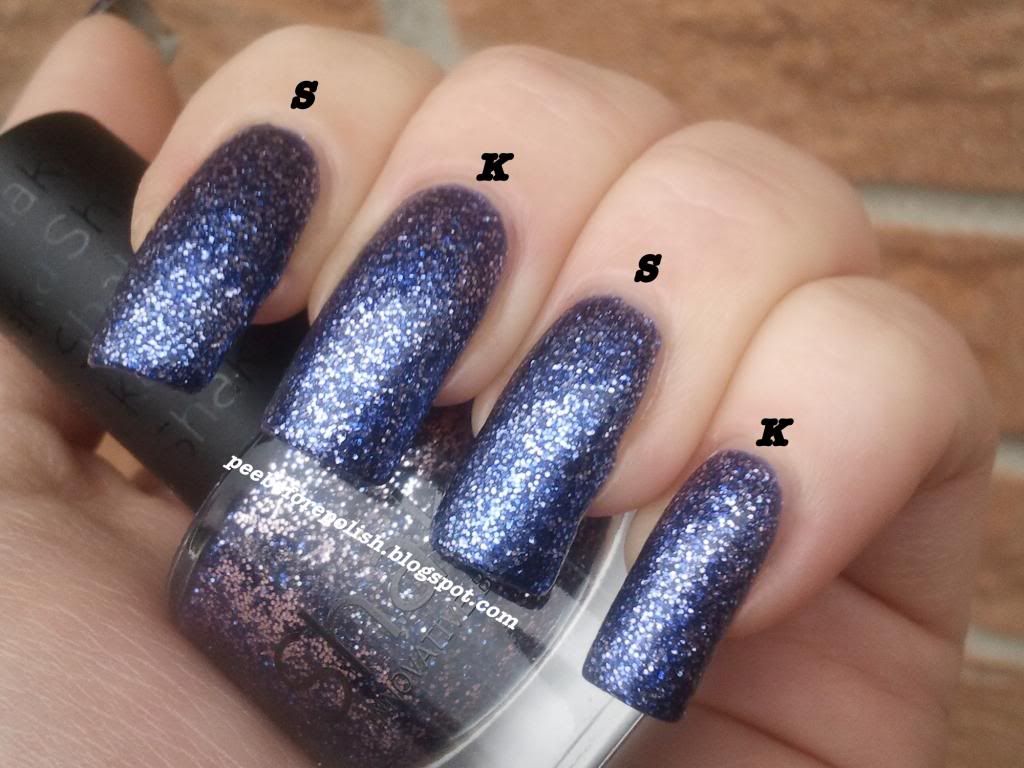 Vedete le differenze? Ecco, io no.
Il mio parere è che il Kiko sia uno Shaka con meno thinner (o qualunque altra cosa usino per rendere più o meno densa la formula di uno smalto).
Il colore è identico in tutto e per tutto, mentre formula ed applicazione sono diverse: come già scritto, il Kiko ha uno formula decisamente molto densa. Lo Shaka ne ha una più fluida e più scorrevole.
Ne consegue che con una passata il Kiko sia più coprente, ma credo sia un parametro ininfluente visto che dovrete comunque procedere ad una seconda mano per coprire bene l'unghia.
Asciugatura identica, e pare che si possa dire la stessa cosa per la durata (mi riprometto però di aggiornare questo dato perché ce l'ho su da due giorni e mezzo ed è ancora perfetto).
Il rapporto quantità/prezzo è leggermente a favore di Shaka (0.39€/ml contro 0.44€/ml di Kiko).
Insomma, signore, credo di poter annunciare che habemus dupe!
Do you see any difference? I don't.
I can say that Kiko #407 and Shaka Mistery look exactly the same.
The only difference is in their formula (and application as a consequence). Starry Indigo has a very dense formula. Mistery has a more fluid and easier to apply formula.
With only one coat of product, Kiko Starry Indigo has a better coverage; anyway, you will need a second coat to obtain a perfect coverage, so I don't see a true difference even here.
Drying time is fast in both cases, and longevity seems to be similar too (I'm not sure about this, I have to update the post, because I've been wearing Shaka Mistery for only two days and a half and it is still perfect).
Kiko Starry Indigo costs 0.44€ per ml (4.90€ for a bottle which contains 11ml), while Shaka Mistery 0.39€ per ml (1.99€ for a bottle which contains 5ml), so it is a bit cheaper.
Well, I think I can say: ladies, we have a dupe!
KIKO #407 STARRY INDIGO
Applicazione / Application

4/5

Asciugatura / Drying time

4.5/5

Coprenza / Pigmentation

4.5/5

Durata / Longevity

4.5/5

GIUDIZIO FINALE / OVERALL

4.25/5
SHAKA MISTERY
Applicazione / Application

5/5

Asciugatura / Drying time

4.5/5

Coprenza / Pigmentation

4/5

Durata / Longevity
4.5/5
GIUDIZIO FINALE / OVERALL

4.5/5